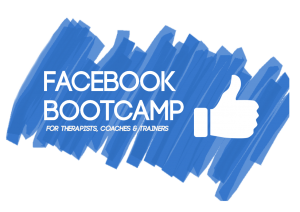 in-house Training.
This is the best training in the most efficient method to get busy fast that I've ever seen.
It shows how I have gone from a small practice to being booked-out year round with a waiting list. How I went from struggling on an advertising budget of almost €600 a month (€7000 a year) to being full on just €250 a year (Less than 0.70c a day spent!)
The day covers:
The vital psychology that connects you to the people who need your help.

How to create posts and content that creates results.

How to use Facebook's simple-to-use features for greatest success.

The easy-to-use strategies to help a lot more people on Facebook.

How to keep costs down.

And the pitfalls to avoid.
This training includes my own testing and proven methods as well as strategies I learned inside Facebook's European HQ. This forms the bedrock of successful marketing for therapists at it's most powerful and easy to implement.
For in-house training a mininum of 20 attendees is required in Ireland/Northern Ireland and 40 minimum attendance for UK Mainland.
The fee per person is €120. The centre is invoiced for a single payment at the end. The profits are split between the Centre running the Seminar and Therapy and Coaching Success, thus allowing the centre to get a boost both financially and in making life easier for the therapists trying to reach their ideal clients.
To arrange a seminar or for more info please contact us.